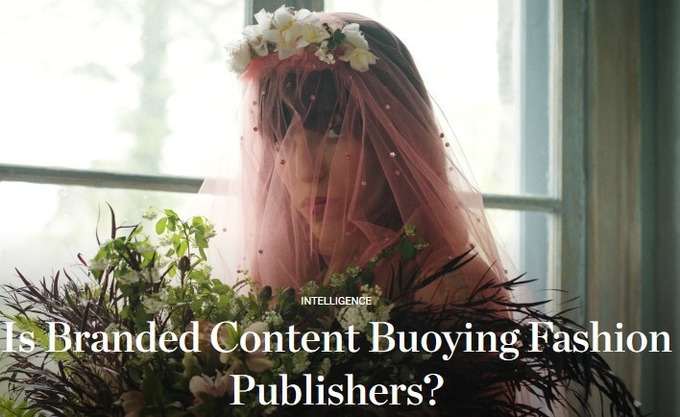 On Monday, Gucci will release its latest fashion film, a Gia Coppola-directed spin on the tragic Greek love story of Orpheus and Eurydice, set in present-day New York City and starring Lou Doillon, Marcel Castenmiller, Laura Love, Rocco Di Gregorio, among others. Coppola and stylist Arianne Phillips worked in tandem with Alessandro Michele to capture the dreamy feel of the hot-shot creative director's Pre-Fall 2016 collection, which the film — shot across five locations and broken into four episodes — was created to promote. Michele even designed a custom pink 10-foot long wedding veil for Doillon's character.

But while shorts like these are nothing new, the genesis of the film was fairly unorthodox. Instead of tapping its internal marketing team or a traditional agency, Gucci worked with 23 Stories, the branded-content studio launched in January 2015 by publishing giant Condé Nast. Beyond Gucci's own marketing channels, the film will be distributed through six Condé Nast (US) properties — Vogue, GQ, the New Yorker, W, Vanity Fair and Pitchfork — which, together, attracted a total of about 32 million unique visitors in April 2016, according to Comscore. Beyond their URLs, those six publications boast a cumulative social media following of nearly 67 million. The film will also be promoted via Vogue China and Vogue Japan. Gucci and Condé Nast suggest the project is bigger and more ambitious than anything else either party has previously done in the branded-content space, both in terms of the level of talent recruited and also the scale of the production.

To be sure, the Kering-owned Italian luxury house has the resources and capacity to create video content like this on its own. But Gucci is after Condé Nast's larger, and presumably more diverse, audience. For instance, Gucci has 8.8 million followers on Instagram while these six titles combined have about 18.5 million. In this deal, Pitchfork's millennial male followers — an important demographic for Gucci under Michele — are as crucial to the equation as W's affluent luxury consumer....